February 5, 2020
Spotlight on EYP Greece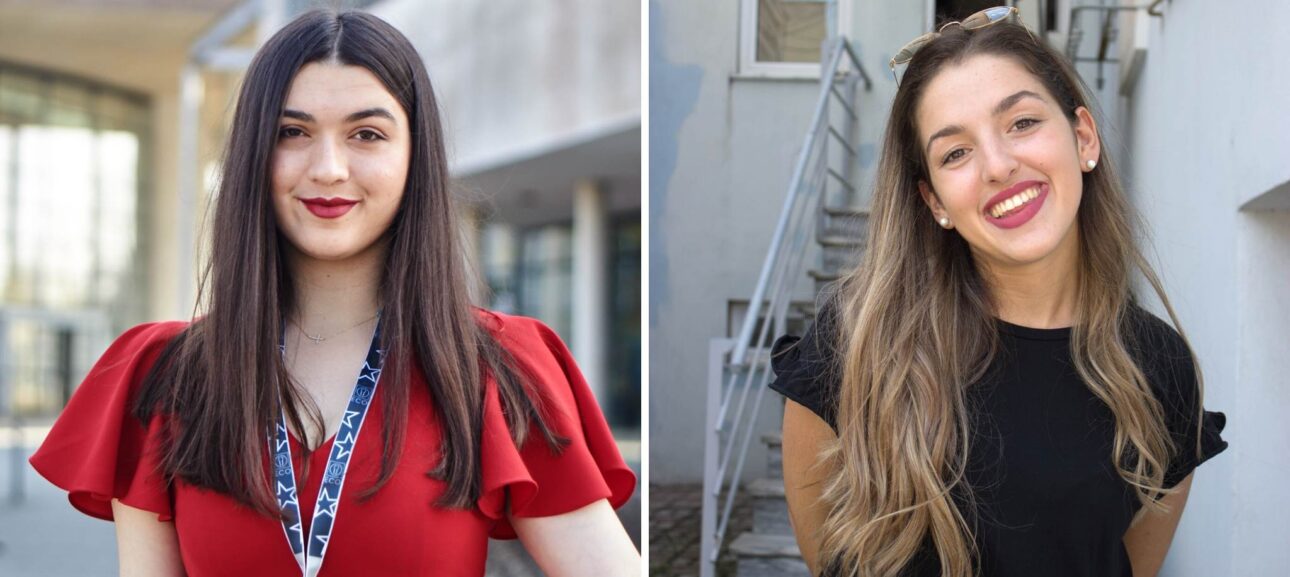 Outreach, inclusion, cooperation: some of the key aspects of EYP which sets out to be a grand motive for the young volunteers working for these causes. Our spotlight series continues with Elena and Xanthi from Greece, who were happy to share their experiences in their National Committee and the network.
Can you tell us a bit about yourself? Do you remember how you got involved in EYP?
Elena: I'm Elena, I'm 21 years old, I come from Greece and I study English Language and Literature in Thessaloniki. The first time I got involved in EYP was back in 2014. I remember being in school and seeing, in an announcement board, that there was a session of the European Youth Parliament. I was curious to learn more and after conducting a small research, I got really excited, so I approached the responsible teacher who told me that I could join the session as a delegate. And that's how it all started.
Xanthi: My name is Xanthi, I am 19 years old and I am from a city in the Northern-Eastern part of Greece, called Alexandroupolis. I am currently studying Law at the Democritus University of Thrace, in the city of Komotini. My first participation in EYP was three years ago, during the 34th National Selection Conference of EYP Greece. The National session of Thessaloniki is being organised each year in December and is open to Delegates from the Northern and Central part of Greece. Only 120 Delegates, from 60 schools get the chance to attend the session every year, which means that every school can send 2 Delegates to the Nationals. I was one of the lucky to be selected by my school back in December 2016 and attend the session. After that, I fell in love with the world of EYP and I was sure that I would stay around for years, trying to gain as much as I can but also, give back to the organisation all the beautiful moments it offered me.
What is your role in National Committee and what do you like most about it?
Elena: In my National Committee I'm part of the fundraising working group. In general, I'm really interested in fundraising and communications, so I would say that I really enjoy practising something that interests me that much. Also, I really like the fact that I'm helping EYP Greece to find resources for improving the existing events and being able to organize even more, thus to provide students who are part of or who want to join this organisation with unique experiences.
Xanthi: During the last term of the Executive Board of EYP Greece, I was a member of the "Outreach & Inclusion" working group. My participation in the working group was something I wanted for quite some time and I am really happy that I got the chance to work in it. What I most like about "Outreach & Inclusion" is that its first and most important aim is the expansion of EYP, the introduction of EYP to people that have not heard of it or did not get the chance to participate in it. Being able to search, think of and try to find out new ways to expand the impact of the network within Greece and even more the region where I live made me feel that I could actually contribute to my national committee. From suggesting ways of how to offer students from remote areas the chance to meet EYP, reaching out to local patrons and supporters, to searching of organisations that will help our NC's sessions become more accessible to people with disabilities, "Outreach & Inclusion" working group helped me to better understand the aims of EYP and participate more actively in it.
Tell us about one activity/event/outreach of your National Committee that you are proud of.
Elena: Last year, EYP Greece at one of its National Sessions had a delegate who had hearing impairment. Despite this fact, with the help of his teacher who served as an interpreter, he managed to be fully engaged to all the activities done throughout the session. I feel proud because this means that he saw EYP as an environment which is open and welcoming to everyone, something that gives me further hope that more and more organisations will welcome and be open to people from all the different social groups.
Xanthi: An activity that I am really proud of is the 2nd EYP Day of EYP Greece, a session that I got the chance to Head-Organise in November 2019. I am particularly proud of this session because it was not just a dream, but the realization of what I would like to see happening in EYP Greece during the following years, 'til we manage to fully expand our National Network. And that is, to offer high-quality sessions (in the form of Days) to students from remote areas and motivate them to participate more actively on their own. What made EYP Greece's 2nd EYP Day special was the fact that it was a session fully customized to the region. Thrace, due to its location, is a multicultural region with many specific features. What we tried to do was to offer the Delegates a theme and topics relevant to the region and close to their daily lives. This way, we tried to engage them in fruitful discussions and show them that they can and should have an opinion on what happens around them. Moreover, it was a session based upon the feedback of the 1st EYP Day. That was something that really helped us to make the essential changes to the structure of the Day and, in the end, advance it. Another thing that I also feel extremely happy about when thinking about the 2nd EYP Day of EYP Greece is how much work and dedication its officials put into it. Since the very beginning, we made it clear that our goal was to motivate students from Thrace to participate in EYP, giving them a better taste (as much as possible in one day) of what EYP stands for. The Officials not only respected our vision but also worked hard to engage delegates before the session, offer them a beautiful in-session day and stay in touch with them afterwards. Bearing in mind that EYP Days are still new to EYP Greece, I found the officials' contribution to be remarkable and rewarding. Their enthusiasm and dedication made me feel that there was a bright future for Outreach in EYP Greece.
Why do you think it is important to have EYP in your country? / What impact do you think EYP initiatives hold on the young people of Greece?
Elena: EYP is a place in which you learn a lot. During an EYP event, you have the chance to meet people from all around Europe, travel, discuss on current different topics, exchange views with people in your age, meet different cultures, develop personal skills and technical skills when you are part of a Media Team, and so many more things that I could write a whole page out of them. In Greece, you don't have that many opportunities to participate and do something similar outside of EYP, especially if you don't live in a big city. That is why I strongly believe that it has so much to offer to young people. It is a great opportunity to discover a world and a society whose members care for you and what is happening around you.
Xanthi: I believe that having EYP in one's country is really important because it empowers its youth. EYP can offer so many opportunities to an individual; from deciding what career to follow to discovering hidden talents, acquiring new skills, and knowledge, overcoming insecurities. EYP is a safe place that can advance someone at all levels. What I consider as a really important thing about EYP is that it shows to young people that they have a voice that they should use in order to make the world around them a better place. I believe that we all have a vision, we all want to see change but we believe that it is not enough or that we are not being heard. EYP, through its sessions, not only gives the chance to young people to face current important issues but, by giving them the chance to think of ways to solve them, it also makes them feel like active citizens. Moreover, EYP introduces the youth to another important part of active citizenship: Volunteering. Many young people don't have or are not looking for the chance to get involved with volunteering. EYP is a great example of volunteering because it combines knowledge with offer and it shows that team-work, cooperation, offering help and working towards another's best interests is one of the most rewarding things that one can do.