September 23, 2022
National Committee Spotlight – EYP Georgia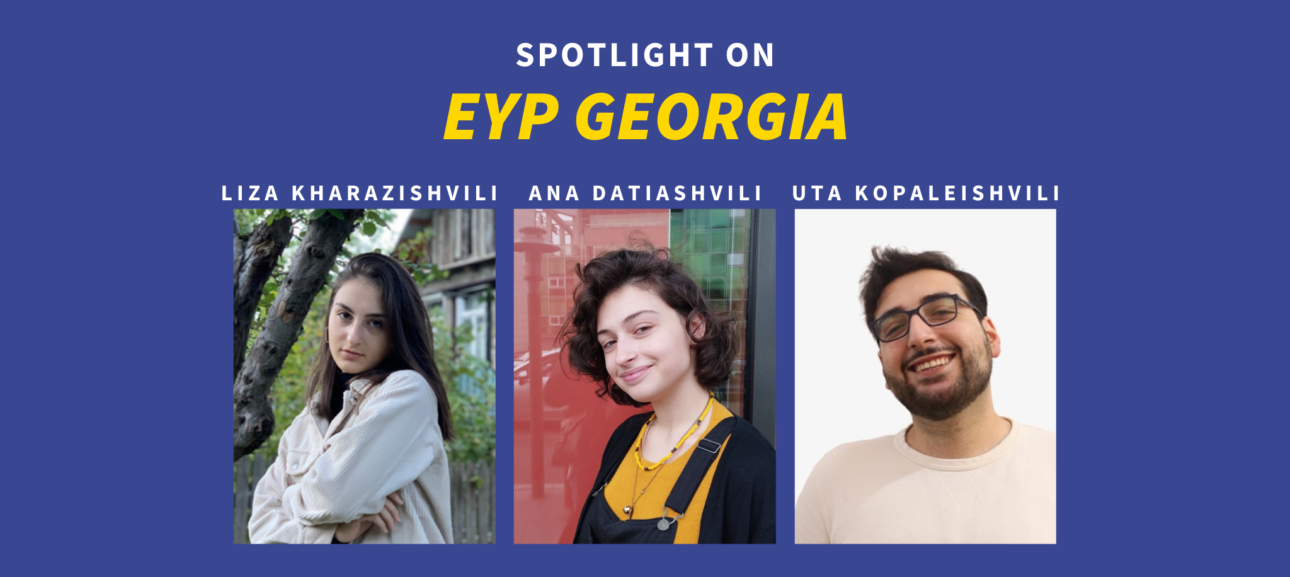 We are back with our National Committee Spotlight series! This time, the focus is on European Youth Parliament Georgia. We asked volunteers Liza, Lika, and Uta to share with us their experience with EYP Georgia, and everything that makes their National Committee, events, and members unique!
Can you tell us a bit about yourself? Do you remember how you got involved in the EYP?
Liza: My name is Liza, I'm 18 years old. I just graduated from high school. I am going to study computer sciences in the future. I joined EYP in 2020. I was a delegate for the outreach session in my town, Borjomi, and got interested. 
Uta: My name is Uta, I'm 22 years old and from Tbilisi, Georgia. I got involved in EYP with the help of a university friend who was a head organiser of a regional session in 2019. Although hesitant at first, I agreed to try it out and well, the rest is history. 
Ana: My name is Ana, I'm 17 years old, from the capital of Georgia, Tbilisi. I started my EYP journey back in 2019 when my already experienced cousin in EYP told me that they were receiving applications for delegates at the National Selection Conference in Kutaisi. I remember feeling extremely nervous before the session, but once I got involved in the activities, all the bad feelings faded away.
What is your role in your National Committee and what do you like most about it?
Liza: I am the head of the Outreach and Inclusion department. I've been a member of the National Committee of Georgia since 2020. I love communications and with this role, I can help my country's youth to know about EYP and get included. I love when I see their inspired and motivated faces after they find out that there is an interesting event in their region. I like the way my committee helps people feel inclusive during the sessions. 
Uta: After the first year of being an ordinary member of the National Committee, I served a year on the Executive Board as the head of the Department of Human Resources. Working alongside my department, seeing our ideas and projects, and taking them from paper into reality was a very fulfilling experience. It was a very supportive environment and a joint, team effort when it came to literally everything we were doing, which I'm going to be forever grateful for. Right now I'm a National Safe Person, ready to further offer as much as I can to my National Committee as it's so close to my heart and has given me so much.
Ana: In my National Committee, I am on the Executive Board as a head of the Public Relations & Communications department. My duty is to shape the visual identity of the sessions throughout the year and to communicate with educational institutions and organisations in Georgia alongside my team. I love the creative process of work, coming up with ideas, and the process of fulfilling them.
Is there a unique perspective you bring to the National Committee?
Liza: I am from one of the more remote regions of Georgia and that helped me a lot to realize the needs of the young people who do not live in big cities. From my personal experience, I know that it's impossible to be part of interesting projects when you don't have information about them. That helped me to organize the outreach session and get more experience. 
Uta: As a part of an underrepresented group in society, I've always tried to bring and uphold a supportive and encouraging environment with a balanced mix of equality and equity where everyone's voice is heard and of value. As this is not the case when it comes to marginalised groups, it's crucial to present everyone with a platform and the ability to voice their stances and opinions with a guarantee of healthy discussions and promising dialogues.
Ana: This is one of the questions I genuinely started to think deeply about and concluded with the reflection on the work I've done throughout the year. As my fellow Board members say, I bring innovation and new perspectives to our NC. When it comes to making decisions about certain activities or events, I try to forget about the already-tried ways and start to think of new ways of fulfilling them. So far, with that approach, we managed to grow engagement and interest from the young people of our country.
What is special (or just out of the ordinary) about your National Committee? What helps it stand out in our network?
Liza: Although our National Committee does not have many members, it always feels like a family because everyone is ready to help, listen, and encourage you. That helped me a lot in hard times. I am amazed by the way every member loves EYP and how they want to do good things for it. This love keeps our National Committee active and motivated. 
Uta: Our National Committee is rather small. Too small, some might say. Although often it's challenging to start out and finish projects, at the end of the day we know that we can rely on each other. The tremendous amount of support and unity in the National Committee is something I find really admirable and inspiring. We value the time and effort of every single member of the committee and see each other as a team, undivided and intertwined around the same thing we're passionate about.
Ana: EYP Georgia is a group of very supportive, unique, smart, friendly, and open individuals. Our NC is always ready to speak up for the truth and support. I think having EYP Georgia as one of the National Committees in the network makes a real difference to the good.
Tell us about one activity of your National Committee that you are most proud of.
Liza: I am proud of every event and activity we did because every one of them was special to me in its own way. I should mention the first digital session of EYP Georgia, which was the most memorable for me. I am proud that we managed to work online and improve our skills in different networks. 
Uta: Every little thing I've done has been a win for me as everything felt like a big accomplishment, but I'm gonna have to give emphasis to what I and the whole Department of Human Resources were able to achieve last year. Although it was tough, with our individual schedules clashing a lot of the time, we managed to prevail and band together, finishing some of the biggest projects we've planned. We redesigned the way we imagined our interviews, gave a start to a database of participants that upcoming board members will update as they progress and were a part of the initiative to present EYP to as many young people around the country as possible, through their schools. Although the final product wasn't as ideal as we wanted it to be, I'm still very proud of what we accomplished and will continue to be forever grateful for how supportive they were to each other; and to me too.
Ana: This year, as one of the PR activities, my department and I came up with an idea to make an EYP Picnic. We chose one of the Saturdays, went to a popular park full of young people, put up our roll-up banner, and directly approached young individuals of our city. I am extremely proud of this activity not because of its tremendous output, but because we managed to think out of the box and level up our way of promoting EYP to our fellows. 
What impact do you think EYP initiatives hold on young people and on your community?
Liza: EYP has a great impact on young people. It changes perspectives and gives the motivation to learn and do more. EYP shows young people that there are many interesting cultures, languages, and people around the world. It makes them realise problems and how real they are. EYP helps teenagers to become part of the European family and meet their peers from other countries. 
Uta: EYP is a place where like-minded young people can band together around their common interests and passions, challenge themselves and their peers in a healthy environment where the idea of "failure" doesn't exist, and develop various skills that will aid them in their future endeavours. Sometimes it's hard to explain to a non-EYPer how much actually lies in EYP – it's far beyond sessions and General Assemblies. EYP is a community that offers nothing but opportunities and growth to young people in various aspects of life. 
Ana: There are many organisations and initiatives in our country for young people, but none of them is like EYP. It not only gives one a supportive community but serves with quality, professionalism, and an opportunity to develop and find oneself in many ways. To Georgia, EYP is a very impactful initiative, it's not well-spread, but we can already see our alumni leading important initiatives in the country and promoting active citizenship and being active themselves.
What challenges and/or potentials do you foresee for EYP in the future?
Liza: The biggest challenge is the war in Ukraine. EYP keeps supporting them and their National Committee is dealing perfectly, but we still need to continue helping them as long as possible. There is great potential for EYP because more and more people join us. There are better ideas, more creative points of view, and modern platforms. With all of this, I am sure that EYP will continue to unlock endless levels of growth. 
Uta: As unpredictable as we've seen the world be in the past few years, my mind goes blank thinking about the challenges EYP might face. As for potential, one thing I can say is that I am confident that despite any challenges that may arise, EYP will find a way to not only overcome them but to support each and every member of the network along the way.
Ana: I think the human resources problem is the biggest one for the whole EYP, as well as for EYP Georgia which resulted from the world events that took place in the past two years. Although I believe this problem will be soon solved, since the immense potential and the motivation of the members.