May 31, 2022
National Committee Spotlight – EYP Sweden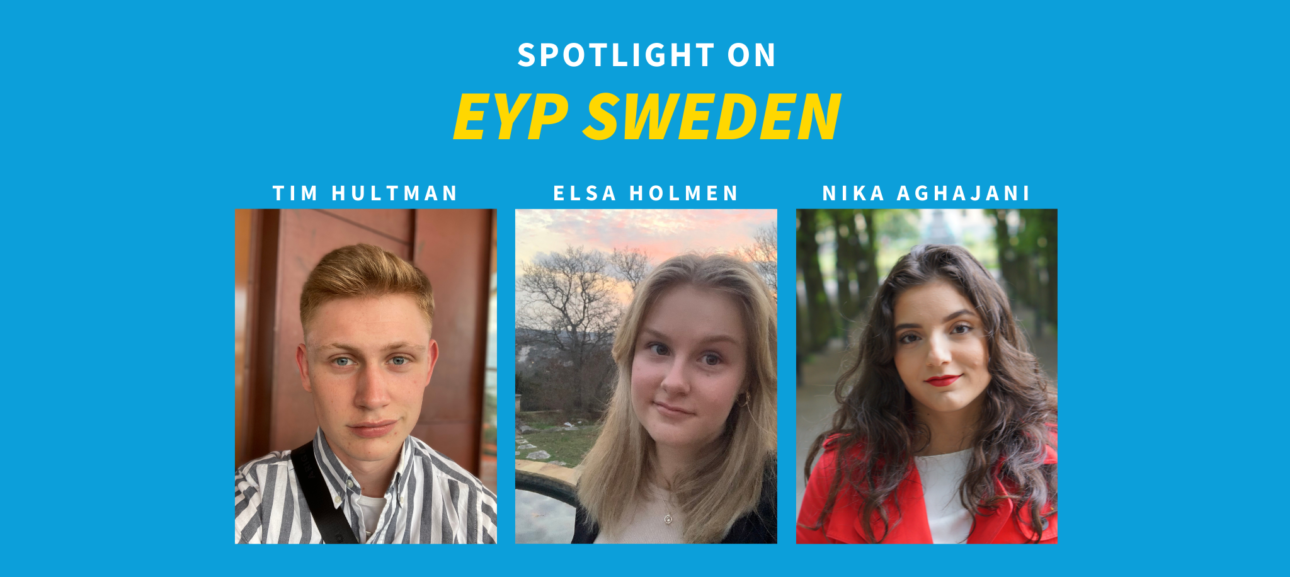 We are very happy to be continuing our National Committee (NC) Spotlight series! This time, we take a look up north, and put the spotlight on EYP Sweden. Our volunteers Tim, Elsa, and Nika tell us all about their home NC, what makes EYP Sweden unique, and their experience!
Can you tell us a bit about yourself? Do you remember how you got involved in EYP?
Tim: My name is Tim and I come from Malmö in southern Sweden. I am 20 years old and I am currently working, but I will most likely start studying law in autumn. My story with EYP started with an international session. I got invited and joined on a whim, not knowing much about the organisation. Although things felt a bit overwhelming at first, the session was absolutely amazing and I have been hooked ever since.
Elsa: My Name is Elsa and I live in Gothenburg, Sweden. I'm turning twenty this year and I'm currently in my last year of high school. I'm doing an extra year because of an exchange year in 2019 in Texas, USA. I got involved in EYP in the spring of 2021, when I first attended the digital national session in Sweden. Since I loved the concept, learning about politics and at the same time meeting people all over Europe, I decided to apply to be a board member of the regional board EYP West. Lately I've started chairing in sessions as well!
Nika: Hello, my name is Nika! I'm 21 years old, turning 22 this summer, and studying a BSc in Development Studies at Lund University. I started my EYP journey back in 2017 when I was selected to represent my high-school at a regional session. I have always been very passionate about debate and politics, but I really can't compare my EYP experiences to anything else within the realm of youth activities —  it is honestly my biggest motivator to contribute to my National Committee, so that others can experience the magic that I did!
What is your role in your National Committee and what do you like most about it?
Tim:  I am a member of the national board of EYP Sweden and my role has a lot to do with supporting our members that operate on a regional basis. More specifically, my job is to support our regional boards and the Head Organisers of our regional sessions. My favourite part of this role is that I get to work closely with the very people that make up EYP Sweden, amazing people who will be crucial in shaping the organisation's future.
Elsa: I am a member of the Western regional board. Me and my board members are responsible for keeping in touch with local EYP schools, arrange in-school sessions and other local events. We try to engage as many people as possible in the organisation, as we want others to have the same opportunity that was once given to us. What I find the most fun about this is arranging local events. It creates great moments and interactions between EYPers, both old and new ones. 
Nika:  Currently, I am the soon-to-be retired Head Organiser for "Lund 2022 – We Rise By Lifting Others", a National Session that took place between the 9th–13th of March. Given that there's a lot to be done post-session, especially in terms of budgeting and meeting sponsor expectations, I can't step out of the role quite yet. Being a Head Organiser—however challenging it may be on most days—is by far the most rewarding experience I've had within EYP. Not only did I have the opportunity to facilitate a platform for young people to speak their minds and feel heard, I also had the chance to provide some healing normalcy for individuals who've struggled a lot recently. The pandemic disproportionately affects young people and in the majority of cases prevents them from having access to conventional schooling, extracurricular activities, social engagements and events, and other informal learning opportunities with their peers. The toll on young people's physical and mental well-being, within and outside our organisation, has been very noticeable; and it was my goal to use the session as a positive turning point and a source of renewed energy for them.
Is there a unique perspective you bring into the National Committee?
Tim: Now, I am not sure if this is something that is all that unique, but one thing that has really been shaping my perspective lately is what I do for work. My job is to help people with disabilities, particularly, people with autism and intellectual disability. We talk a lot about inclusivity within EYP, but one group that is often ignored is people with disabilities, and I want to change that. 
Elsa: It may not contribute to diversity, however, I do have a unique experience of another culture after spending my exchange year in Texas, a culture that fundamentally differs from the one I was raised in. It has helped me to understand the importance of conversations with people who have different beliefs and values. Today, I feel that society has become more polarised, everything seems to be black and white, right or wrong. When you talk to people with other values it creates an understanding that people can be both right or wrong, and be good people even though they disagree with some of your standings. 
Nika: I am a first-generation immigrant from Iran, and have spent the majority of my life immersed in European culture one way or another. At the end of this year, I will have spent 10 years living in Sweden, yet I continue to struggle with my identity and pride as a European. There's an unfortunate and negative connotation about immigrants, emphasised  by some parts of Swedish and European society, that I don't think will soon fade. In my eyes, my immigrant background serves as my greatest strength in building bridges with others, yet for some people it is precisely the reason why I shouldn't build bridges — according to them, I don't belong here. As such, my contributions to the Swedish National Committee have been mainly about emphasising the opposite. I want to highlight the humanity that we share, the importance of seeking out the well-being of others, and that solidarity needs to be accompanied by action; hence the theme of the recent session being – We Rise By Lifting Others. 
What is special (or just out of the ordinary) about your National Committee? What helps it stand out in our network?
Tim: I think one thing that makes EYP Sweden special is that we are a very tight network. Sweden is not that big of a country, and to be frank, we don't have that many active members. But the people that are active are, well, really active and everyone just winds up being friends with everyone else. This creates a very warm and welcoming atmosphere that I haven't found anywhere else.
Elsa: What I've understood from talking to other national committees is that not many of them have regional boards as we do here in Sweden. Although Sweden is a small country, it has a wide-spread population and I believe that the concept with National and regional boards creates close relationships that would be harder to achieve without them. 
Nika: I'd have to agree with Tim here. The community in EYP Sweden is tight-knit and the individuals that are engaged truly give it their all, often compensating for the total amount of people available to help the organisation grow. I would also add that there's an emphasis on legacy, with each elected board working to make sure that handing-over the reins is easy and that EYP Sweden, as a whole, improves each year without fail. 
Tell us about one activity of your National Committee that you are most proud of.
Tim: One thing that we try to focus a lot on in EYP Sweden is making sure that our members get their voices heard, and for that reason we created a project known as Committees of EYP Sweden. What it is is essentially a more in-depth version of committee work. We have special committees that work with a particular topic for a couple of months and produce very thought out resolutions. These resolutions are then sent out to real decision-makers who read and review them. 
Elsa: In every Swedish EYP session, we also have the Teachers' programme. This is something we do to show appreciation to our EYP teachers that are willing to sacrifice their spare time for their students to be able to participate in EYP sessions. Without these teachers, EYP would not be the organisation it is today. To show them our gratitude, we try to arrange a teachers' dinner and an activity every session. It may not be a lot, but it's a small thing to do to show appreciation. 
Nika: This isn't necessarily an activity but it's a way EYP Sweden connects its members with other organisations and different opportunities in Swedish society! Our National Committee is part of the Council of Swedish Youth Organisations (LSU) and facilitates plenty of opportunities for our youth to engage with other parts of political society, and figure out what career paths they would like to explore further. As much as engagement within the organisation is a key priority for EYP Sweden, it's also important that we do our best to help young individuals navigate and explore different interests — setting them up for future success!
What impact do you think EYP initiatives hold on young people and on your community?
Tim: EYP initiatives do a lot of things, but one aspect that is very important to me is that they help people build their confidence and develop in many different ways. EYP is a youth lead organisation and getting the ability to yourself help lead an organisation that has already given you so much is incredibly empowering. 
Elsa: When I first attended an EYP session, I thought it was all about EU politics and learning about it. As I've kept on going, I've realised that EYP teaches you way more than just that. It's about getting out of your comfort zone, learning to cooperate with people you have not known before, speaking up in front of people, many times even in a foreign language. Sure, I have learned a lot about the EU since my first session, but what's really important is the self-development I've seen in myself and so many others. That is why I believe EYP really does make a difference for young people. No matter who you are, every time you leave a session you will have learnt something. 
Nika: I think that EYP initiatives are able to uniquely foster an educational environment that prioritises the personal development of each young individual, and in turn, emboldens them to positively influence others. In my eyes, it's unparalleled and honestly nothing short of magical. To be met with a safe, open and welcoming space to embrace your passions, showcase your creativity, harness your full potential… it's not something that you are always able to find, and its value shouldn't be understated. Personally, I didn't come from an all-accepting home and EYP became a much-needed place for my personal growth and confidence. The person I am today owes a great deal to the opportunities presented by the EYP network. 
What challenges and/or potentials do you foresee for EYP Sweden in the future?
Tim: As with many other national committees, EYP Sweden was hit hard by the pandemic. We lost a lot of active members and did not gain many new members during the two years of covid, so it might be hard to fill all the important roles of the organisation for a while. With that being said, we've had some amazing physical sessions in the past couple of months and people are more excited than ever, so I do still have a lot of hope!
Elsa: As Tim said, EYP Sweden was hit hard by the pandemic. As we've lost many active EYPers, we have a long way to recover. However, since physical sessions have been possible again, I have already met many new members who have shown a big interest in the organisation, which is very fun! In the future I strongly believe in a great EYP community spread over the whole country and I'd love to see a fourth regional board up North. This, of course, is yet a huge challenge and it will take some time to recover and build up the organisation. From what I've seen from our national committee so far, this is a shared vision that we're striving for in our work.
Nika: Yes, I completely share Tim's view on our main challenge. The pandemic has truly been difficult for the majority of National Committees in terms of active members and it feels important to spark or rejuvenate the interest of young people within Sweden. We have plenty of opportunities to do so, especially considering our close and continually-fostered relationship with schools and teachers all across the country, so I'm not particularly worried about it. I've met some amazing trailblazer delegates and volunteers during Lund 2022 that will likely carry the torch for EYP Sweden in the future!